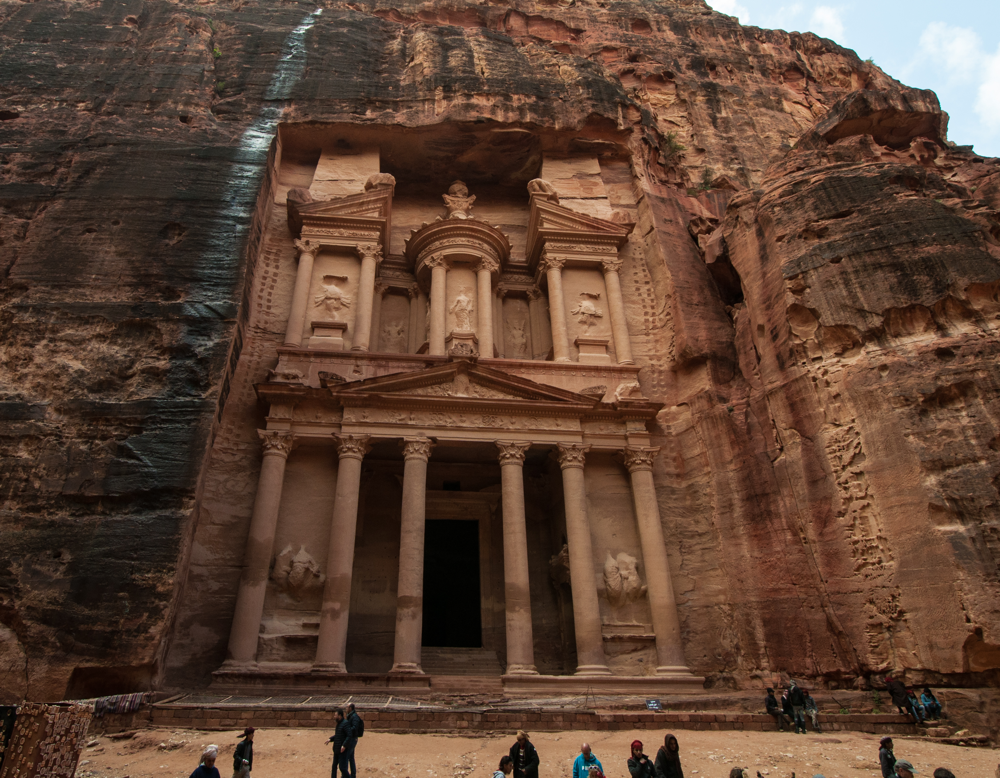 This past last half of February I took a trip with my family and members of our church on a tour of the "land of the Bible" (Egypt, Israel, and Jordan). This was a 15 day trip that took us to and through five countries in four continents. It was a whirlwind trip... super busy, amazing in a lot of ways, and offered a lot of opportunities for quiet reflection. This post is the first of two, I think.. there simply isn't space to record both the places we went and the thoughts I had about them, so this one will focus on the trip itself and all the places we went. The next post, hopefully in the next week or two, will share some of those thoughts and reflections.
We left Edmonton on February 14 heading to Toronto, then Munich, then to Cairo. We landed in Cairo on Feb 15 and went straight from the airport to the Nile river where we boarded a boat to have dinner on the Nile itself. Given it was pretty late by the time we got on there, we didn't see much of Cairo other than that the Nile is a hopping place at night... plenty of river boats with food and music. Sadly I did not see any crocodiles, just some stray cats and dogs along the shore. And a donkey. After our trip along the river for an hour or so, we got back on the bus and headed to our hotel.
Interestingly, my eye must be very tuned to Shadowman. I saw him briefly on a building while in the bus... what are the odds of seeing him in Cairo? It must have been a partner company as he was alongside a Dell and HP logo if I remember correctly. Anyways, it went by too fast to snap a pic, but it was neat to see nonetheless.
The next day we woke up to a view of the pyramids from the hotel room which was pretty amazing. We then went to the pyramids and the sphinx. At first it was pretty hard to see.. the pollution in Cairo is insane. It is apparently one of the most polluted cities on the planet. My wife even developed what we called the "cairo cough".. it lingered until a day or two after we left. Anyways, the pyramid was amazing. To think that people, thousands of years ago, built these magnificent things makes me think again of the power of unity -- people banded together, with one vision, can accomplish fantastic things!
We then made our way to the Cairo Museum which was neat (lots of artifacts, mummies, old things). Honestly if not for the pictures I wouldn't remember much... the fatigue hit hard while there and it was hard just to remain vertical. After the museum, we drove up to the cave church of the Zabbaleen which is one of the most beautiful places I've ever been. The trip getting to and from the church, conversely, is one of the most depressing things I've ever seen. You need to drive through an area inhabited largely by Coptic Christians who collect garbage. Given Egypt is a Muslim-majority country, these Coptic Christians have a hard go of it to begin with, but the living conditions (to this Canadian) are somewhat horrific. Yet, for all that, finding a happier group of people might be a challenge! The people were friendly, happy, and very interested in this group of 18 Canadians who travelled up to their church. The church itself, carved out of the rock, was amazing. The stone carvings in and around the church were beautiful. The pyramids were cool, don't get me wrong, but this church was breath-taking. In our short time in Egypt, this was my highlight. The trip up and down to this beautiful place was challenging and offered the sort of perspective that I think a lot of people in North America, at least, could benefit from. It was a sobering ride.
After this, we headed to the airport again to fly up to Sharm El Sheikh where we spent the night at a resort hotel and the morning along the Red Sea enjoying the beach and nice weather. In the afternoon we got on the bus and drove to Nuweiba where we spent the night and planned to climb what they believe was Mount Sinai (up to Saint Catherine's Monastery). The intent was to go at 3am to watch the sunrise at the top of the mountain but due to poor weather, most of us opted out since it would make the climb challenging. And given the smell of camel I experienced at the pyramids I was unwilling to deal with a camel ride up the mountain. A few of the group did, though, and they said it was amazing. The rest of us caught up on sleep and enjoyed a morning on the beach.
When the mountain climbers got back (and showered!) from Mount Sinai, we drove to the Egypt/Israel border, crossed, and headed to Eilat where we went to Coral World and the Underwater Observatory. This was a pretty cool place seeing a bunch of fish and other marine critters. It was also the first place in Israel that we were, and I can tell you that the contrast between Egypt and Israel is dramatic. Where Egypt, for the most part (especially Cairo) was dirty, full of garbage, chaotic, and horribly smelly, Eilat was clean, smelled great, and people actually paid attention to traffic laws.
We spent the night in Eilat then drove to Timna Park where we got to see a life-size replica of the Tabernacle of Moses. This was really neat because standing in something that was built to the specifications noted in the Bible was quite different than seeing a picture or model. We also went to Solomon's Pillars here, which were amazing. I'll update this article in the next week or so with a link to pictures so you can see them. After this we drove through Makhtesh Ramon where a meteor caused a great crater in the Negev. I thought it would be more exciting, but it just looked like the rest of the desert other than we had to drive up, then down, through it, then up again. Taking some pics from the observation point was pretty neat. I spotted no Kryptonians. We then continued driving up to Tel-Aviv where we spent the night.
The next day we picked up the last 8 people who were just joining us for the Israel/Jordan part of the trip (the Egypt part was an optional extension to the tour). Now we were 22 people and we drove up to Caesarea Maritima where we saw ruins of the ancient city, the theatre, the hippodrome and the aqueduct. Then we drove up to Mount Carmel which was exciting to me as I love the story of Elijah and the priests of Baal (1 Kings 18). We headed back to Tel-Aviv for the night.
On Wednesday (Feb 21) we headed out to Shiloh, where the Tabernacle of Moses had been. This was a really neat moment and place because as I was standing there I realized I was in the very place where the Ark of the Covenant actually resided... literally on the spot where it sat on the ground. This was not something I would have ever thought I would be able to do in my lifetime, so it was quite profound for me. But that was just the beginning of profound moments for me that day.. this was probably the most personally reflective days of the trip because after this we headed into Jerusalem where we went to the Mount of Olives, the Garden of Gethsemane, Golgotha (Skull Hill), and to the Garden Tomb. Each of these locations were quite solemn for us as this is where Jesus spent that last night before heading to the Cross, dying, being buried in the tomb, and then rising from the grave. The opportunity to take communion at the Garden Tomb was an experience I can't even describe. Suffice it to say, this was probably the most memorable part of the trip for me.
After this we went to Zedekiah's Cave which was pretty cool, and the Pool of Bethesda which was neat because it proved to be real when many had thought it wasn't (because they hadn't excavated it yet). It also had a cool church with amazing acoustics; one of the young ladies in the group can really sing and in this church it sounded amazing. This would be a great place for some good Gregorian Chants! Then from there we went into the old city bazaar where we could do some shopping. Honestly, we were in for a few minutes and I wanted out... it was crazy, busy, congested, and hard to breathe. I could live my life without going into a bazaar like that again! I'll take the open-air kind or the farmer's markets we have at home. We then went to the Tower of David for a neat sound and light show. After this, back to the hotel in Tel-Aviv.
On Thursday, we went to the City of David which is the entrance to Hezekiah's Tunnel (or the Siloam Tunnel). This tunnel has you going through water, but there's a shorter (and drier) side tunnel you can take which some of us who didn't feel like getting hip-deep in the water opted to take. We then took a shuttle to the Dung Gate so we didn't have to walk so far (I will have you know that each day we walked on average 10km!) and while we waited for our bus we watched a bunch of Bar Mitzvahs that were heading to the Western Wall. These were really fun to watch! (These guys know how to have a good time!). We then went to the Davidson Archeological Centre, spotted the fake Tomb of David (great for tourists I guess?), and then visited the Upper Room where Jesus and the disciples had the Last Supper. We then visited the Western Wall, which was an interesting up-close view of traditional Judaism, and went underneath them in the Kotel Excavations which was really neat to see all that is below the temple mount. When we made our way out, we saw what remains of Nehemiah's Wall which was really neat as well.
One note about Nehemiah's Wall... according to Nehemiah 6:15, they built the wall around Jerusalem in 52 days. 52 days! Now it says they worked on it day and night, but you don't really grasp what those walls looked like by just reading about it. Seeing it in person... that was an impressive feat! Like the pyramids, it made me think about that power of vision and people united. The things that can be accomplished by a team of people, united, working together, is amazing. For someone who leads a team of people, this was a very reflective moment for me... what kinds of things can we, as professional teams, accomplish together if we put ourselves out of the way and collaborated to build and do important things? Visiting the remnants of this wall really made me think about work and the upcoming year.
After the Wall we went back to the hotel in Jerusalem. The next day, Friday, we drove out to Masada which was incredibly cool. Masada is a mountain fortress built by Herod the Great and it has an amazing view and is fairly well preserved considering it's over 2000 years old. From Masada we went to En Gedi, where David hid from king Saul who was hunting him (neat water springs) and the Qumran Caves where they found the Dead Sea Scrolls. Then we went down to the Dead Sea itself (on the Israel side) but it was pretty much a gong-show with tourists and locals all over the place, super muddy, and just plain chaotic. A few folks went into the Dead Sea (my daughter included) and floated, covered themselves in mud, etc. My daughter says this was one of her most favourite parts of the trip. After this we headed into Bethlehem to spend the night.
Saturday morning we got up and went to the Shepherd's Fields in Bethlehem, which is where they say the angels appeared to the shepherds. It's plausible, but I don't know if it's the exact field or not. Doesn't really matter, it was neat to see and think about that time in history. We then drove to Megiddo which is on the edge of the Jezreel Valley. The neat thing about this place is that the Jezreel Valley is also known as Armageddon, or where the end-time battle will be fought according to the book of Revelation. There is debate as to whether it is symbolic or literal... we'll leave the theology alone but suffice it to say, it was an interesting place to be! From there we went to the Gideon Springs which is a really pretty place, and then to Nazareth Village which is a neat little place that recreates what things would have looked like in Nazareth 2000 years ago. We saw an old wine press, an old olive press, some very interested-in-humans sheep, a woman who spun wool into thread and was making a blanket, an old tomb, old synagogue, etc. It was really neat. Nazareth does not look like that anymore! Here in Edmonton we have a place called Fort Edmonton Park that recreates what it looked like for the settlers here.. this was the same kind of idea. From there we went to the Mount of the Precipice where Jesus announced himself as Messiah and the crowd tried to push him off the cliff. The view from up here was stunning... you could see the countryside and the Valley of Jezreel for miles in all directions. Got some really neat pictures up here. No one tried to leap off, thankfully. After this we headed to Tiberias on the Sea of Galilee where we spent the night.
Sunday we got up and drove north through the Golan Heights which was beautiful on our way to Tel Dan. This place was amazing! We got to see the old city gates and an old altar, and then found the place where Jeroboam had built an altar to God and told the people that if it was too much effort to go to Jerusalem to sacrifice to God, they could do it there (a big no-no you can read about in 1 Kings 12). We also saw a Canaanite gate that they call Abraham's Gate which they estimate is 4000 years old. This was incredible to see! After that we went to the Sea of Galilee and took a boat ride on it, looked at the Boat Museum where we saw the remains of an excavated fishing boat that is 2000 years old (they call it the Ancient Galilee Boat or the Jesus Boat). After this we went to Saint Peter's Primacy where they figure he was when he became the first pope of the church (only Catholics think this of course). After this we went to the ruins of Capernaum, then to the Jordan River baptism site (this place amused me because the Jordan River is not clean, yet they sell Holy Water from the Jordan that is as crystal clear as... tap water... hmmm... perhaps Purified Water from the Jordan River?). Finally we went back to the hotel in Tiberias.
On Monday, Feb 26, we travelled to the Israel/Jordan border and crossed into Jordan. We went to the ruins of Gedara, which was one of the cities of the Decapolis. I have fallen in love with ruins... ghost towns with so many stories to tell! The basalt theatre ruins were really neat to see. From there we went to Jerash, another of the Decapolis (Decapolis was a group of ten cities in the ancient Roman Empire) which are better preserved than Gedara and also exceptionally cool to see. We then drove to Amman and saw the Amman Citadel, in the ancient home of the Ammonite people. We spent the night in Amman (not at the Citadel). Amman is an interesting city.. whereas the rest of Jordan that we saw was dirty with lots of garbage lying around, Amman is a mix of "modern big city" they are keeping clean and "old city" that looks rough like other parts of Jordan. I was surprised by how modern parts of it there where given what I had seen to that point.
On Tuesday we drove out to Petra which was one of my favourite parts of the trip. Petra is absolutely breathtaking! Too bad it's ruined by so many peddlers of cheap wares that get really obnoxious and in your face. Some merchants were respectful enough, but a lot were downright rude and constantly in your face which made it hard to really enjoy it. I think I spent more time walking in the long entry to get to and from Petra just because it was quieter and the rock formations are amazing. After Petra we headed to the Dead Sea on the Jordan side and spent the night there.
On Wednesday we spent the morning at the Dead Sea which was much nicer and cleaner than on the Israel side (maybe because this hotel resort was right on the beach, and private, so they had incentive to keep it clean). We then headed out to Mount Nebo where Moses got a look at the Promised Land before he died. The view from up here is stunning! After that we crossed the border back into Israel and drove through Jericho, a city that is 11,000 years old (I was impressed with the Canaanite Gate at 4000 years!). We saw a sycamore tree, the one they call the Zacchaeus Tree. I didn't know what this kind of tree looked like even though I've known the story of Zacchaeus since I was a little kid, so that was neat to see. Finally we went to the Valley of Elah where David fought Goliath, but it was too dark to really see much. This was on our way back to Tel-Aviv and the hotel we would spend too few hours sleeping in since we had to get up at 03:00 in order to leave for the airport at 04:00.
So Thursday was up at 03:00 (or 18:00 on Wednesday, Edmonton time) and from there we flew to Frankfurt, then to Toronto, then home. By the time we walked in our home on Thursday it was 22:00, or 28 hours after we had woken up to head home. None of us got much sleep on the flight so we were pretty bagged when we got home on March 1.
Some final thoughts. If you've made it this far, you no doubt are thinking that this wasn't much of a "vacation" because it was really busy most days and you'd be right! We knew going into it that this was going to be busy... busier than work or school in terms of time (every day was, for the most part, leave the hotel at or around 8am and return at or around 7pm). Then there was all the walking. And hours in the bus. When my family takes a vacation we enjoy a leisurely pace and visit a handful of places during the day and take time at each place. But this was a once in a lifetime trip and given what we were going to see, we thought it worth it. At our normal pace, we would have required five trips of two weeks or would have had to stay two or three months to see it all.
And what we got to see was incredible. This was my first time to the Middle East, even though I've been reading about what I visited almost my entire life. It was exceptionally cool to see all the places and things, although I take the "this is the site of X" with a grain of salt.. some of it is proven historically, some of it is just based on tradition. Either way, if we weren't at the exact place, we were near it, which was enough for me.
So while it wasn't a relaxing vacation in the traditional sense, it was an awesome experience. And it was a much-needed mental break from work and computers and security (although it wasn't all entirely avoided!). And I've walked away with some new insights that I think will help me in the future, both on a practical and theological level. I've got a new appreciation for the culture and country of Canada, and have a new interest in the history of Israel after the events of the Bible as our local tour guide Angelina was great in sharing some of the more recent history of the places we were going.
Finally, I'd like to thank my good friend Mario who was our tour guide (you can see some of his pictures from the trip on Instagram. I wouldn't have wanted to go with anyone else.. he did an amazing job and I know it was stressful.
I'll get some pictures up on Flickr in the next few days... there are about 1000 pictures to go through and cleanup, but I'll get a few up there soon! I'll also write about some of the thoughts I had from a few of these places... most of this post just described the trip and not what I thought about in a lot of these places. To be honest, I'm still reflecting and thinking about things and still putting the pieces together... so much was crammed into such a small amount of time. Even writing this was helpful as it helped me remember some of the things we did, so while this may be interesting for some of you it's mostly to help me remember the trip!