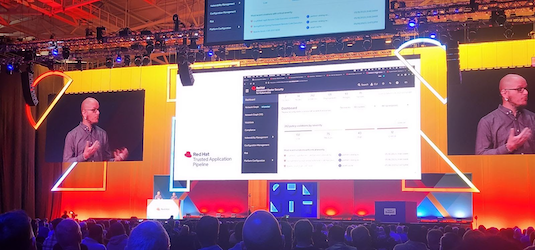 I had the opportunity to attend Red Hat Summit 2023 which you can watch on demand in Boston, MA. Unlike the OSS Summit, this was a 14h door-to-door trip, there and back, due to delays (typically 12h door-to-door). However the annoyance in travel was more than made up for by the energy of the Summit.
This was probably the best Red Hat Summit I've attended. Unlike last year that was more executive-focued and smaller, this one was a lot bigger, a lot busier, and was absolutely buzzing! After COVID and so many years or not having an in-person Summit, everyone was happy to be there, energized, talking, and excited. Beyond that, the product announcements this year were really exciting, things like: Ansible Lightspeed, Trusted Application Platform, Developer Hub and Services Interconnect to name a few. You can get the lowdown of all the announcements from the Red Hat Summit 2023 Newsroom which has a bunch of links to different announcements.
This was the first Summit where I was on the keynote stage giving a quick demo about Red Hat Trusted Application Platform with my friend, and overly experienced presenter, Burr Sutter. It was gratifying to hear later how well received this demo was! You can watch our demo on YouTube starting at 59:25 which has Ashesh's preamble and setup first then the demo.
While there I was again invited to be on theCube and talked about Trusted Application Pipeline, supply chain security, open source security, SBOMs and more. (Try to ignore the clicking, I'm going to have to get them to mic me up on the side where I have less earrings in the future!)
It was also great to connect with Red Hatters I've never met in person or those I've not been able to meet for some time (and those I was hanging with at the OSS Summit two weeks prior!). It was an excellent event, very busy, very exhausting, but at the same time very energizing as well.